Decided to stay in Manila this weekend instead of going home to Bulacan so that Mac and I can spend more quality time together. =)
We went on a date to Eastwood to watch movies. I love that Mac can now drive us to our dates. We parked at the new mall just to see how it looks like and it was big enough. They had a bake sale going on.
Here Comes the Bride on the other hand was so much fun. It is a tagalog movie made by Star Cinema starring Angelica Panganiban, Jaime Fabregas, Tuesday Vargas, John Lapuz and Eugene Domingo of the Kimmy Dora fame. It was unexpectedly good. I really loved the comedy and Angelica's acting was so natural. If you just want a good time, I recommend this movie.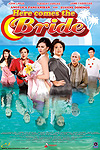 After the movies, we headed to Sanctuario de San Antonio to attend the wake of Baby Gab Pamfilo. He's the first son of Jaja's (my maid of honor) brother. The baby only lived 3 short weeks. It was so sad. The baby was born normal and he just caught an infection that he didn't survive from. Mac and I were talking about how devastating that was and how hard it is to recover from something like that and if that ever happens to us how we wouldn't know how to move on. Specially since we have been trying to concieve for a while now.
We got home late already and woke up the next day at noon. We went out to do some chores - had the car washed, had our pedicures, bought groceries. We cooked spaghetti when we got back home and ate lunch at around 4pm. =)
We then spent the rest of the day watching new episodes of our favorite series - Chuck, Glee and Personal Taste. We also watched the movie Leap Year which was just okay. The weekend flew by so fast.
I love weekends like that when there is no work to think about and I just spend time with my husband and we do everything together. I love our kulitan moments to the point where one of us gets pikon already.
I just love lazy weekends where we spend the whole day in bed.
Till next time...